Summer is the perfect time of year for outdoor entertaining. Whether you're hosting a Friday night dinner party with friends, having a lazy Sunday afternoon lunch with the family, or having an intimate dinner for two, these summer outdoor entertaining ideas are sure to inspire you.

Image credit: Kevin Chin Photography + Cinema via Style Me Pretty
Prepare your outdoor entertaining area
Put your best foot forward and start by preparing your outdoor entertaining area for guests the day before your event. Mow the lawn, trim the hedges and clean the patio. If your outdoor dining setting hasn't been used in a while, give it a hose and let it dry in the sun (we suggest hosing well before the event, so everything is dry in time!).
If you'd rather get this part over and done with so you can get into the fun part of outdoor entertaining, hire an Airtasker garden maintenance professional to do these tasks for you.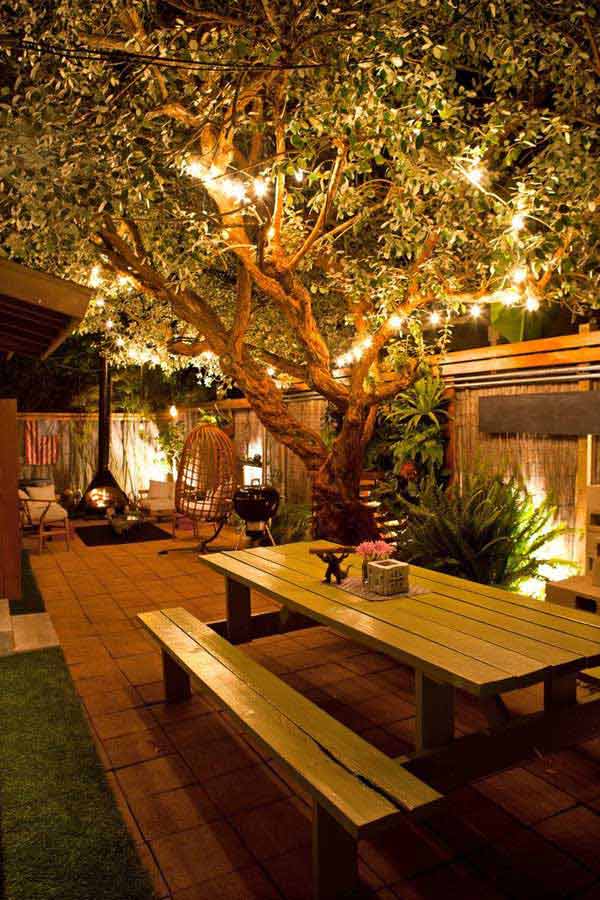 Image credit: Laura Joliet for the NY Times, via Woohome
Light up your outdoor entertaining area
If you're hosting an evening event, nothing quite makes the atmosphere as special as some pretty mood lighting. Have a fiesta with some bright, almost retro, 80s inspired coloured light bulbs, or go for a subtler look with some beautifully strung fairy lights. Lights strung across balcony railings, on tree branches, or bunched into glass jars and hung above the table are really effective.
If you love fairy lights, have a look at other ways to light up your life with fairy lights.

Source: apartment therapy
Have table centrepieces
Pretty up the table setting with a summery centrepiece. Make a colourful, fragrant centrepiece by pairing up florals with fruit. Bright colours and fresh, zingy smells like citrus will enhance the atmosphere of your outdoor entertaining area.

Source: O NOSSO CASAMENTO
Choose a theme or cuisine
Everyone loves a cob loaf, a cheese log and a caramel tart, but no one does them anymore! If you're having a retro party, make your next outdoor gathering a little nostalgic by serving up some traditional Aussie BBQ fare that your parents rocked about 30 years ago (the perm and mullet period). Decorate the area, set up a photo booth, and get in the mood for a party.
Your guests will love this easy Bacon and cheese cob loaf recipe.

Image credit: Mark O'Meara via Taste
Set up a drinks station
Set up a 'serve yourself' drinks station for your lunch or dinner party – buckets, a wheelbarrow, a table, your kid's billy kart or even a small boat filled with ice are great options for serious entertainers. Not only will it look great, but you'll take some of the effort out of hosting by getting guests to help themselves.

Source: Stylecaster
Keep the mozzies away
The humid, muggy weather we know and love summer for, brings with it an inevitable plague of insects. Keep your guests comfortable by fighting off the mosquitoes and midges with mozzie coils or citronella oil. If you want to be really clever about your lighting, centrepieces and insect repellent, you could make your own citronella candle table piece. Get your DIY instructions from The DIY Playbook.

Source: The DIY Playbook
Play some tunes
Set the ambience by putting on some background music. It will help carry the conversation and create a good mood (and fill the gaps if awkward silences occur). Acoustic guitar covers work well for a relaxed evening under the stars, a hired jukebox will crank up the party for a significant birthday, and a live band will take your engagement party to the next level.

Source: Pinterest
Cook up a storm on the BBQ
Speaking of BBQs… what is outdoor entertaining without a BBQ? Any type of BBQ will do the job; so long as it's got a flat plate and a grill plate, you can do almost anything on it! Think summery, spicy, skewers, gourmet sausages, minute steaks, whole baked fish and chicken wings. Or if the weather calls for it, do a roast (beer can chicken is a favourite) and serve it up with a sensational salad and some BBQ sweet chili corn.
How about impressing your guests with a stunning Spanish style seafood paella?

Source: HALF BAKED harvest
We hope you enjoy these summer outdoor entertaining ideas. Let us know if you have any more!