If you'd like to make your little one's bedroom an exciting, creative place for them to grow and flourish, you'll love these IKEA hacks for kids bedrooms.  There are so many inventive ways to use items from the affordable Swedish homewares giant to encourage play, create a fun environment, and a calm place for rest.  Here are some of our favourites.
Bekvam step stool IKEA hacks
The Bekvam step stool is one of the most versatile pieces of furniture in their range when it comes to kid's rooms. With a retail price of $17.99 (IKEA), it's an absolute steal.  Have a look at these inventive hacks for using it.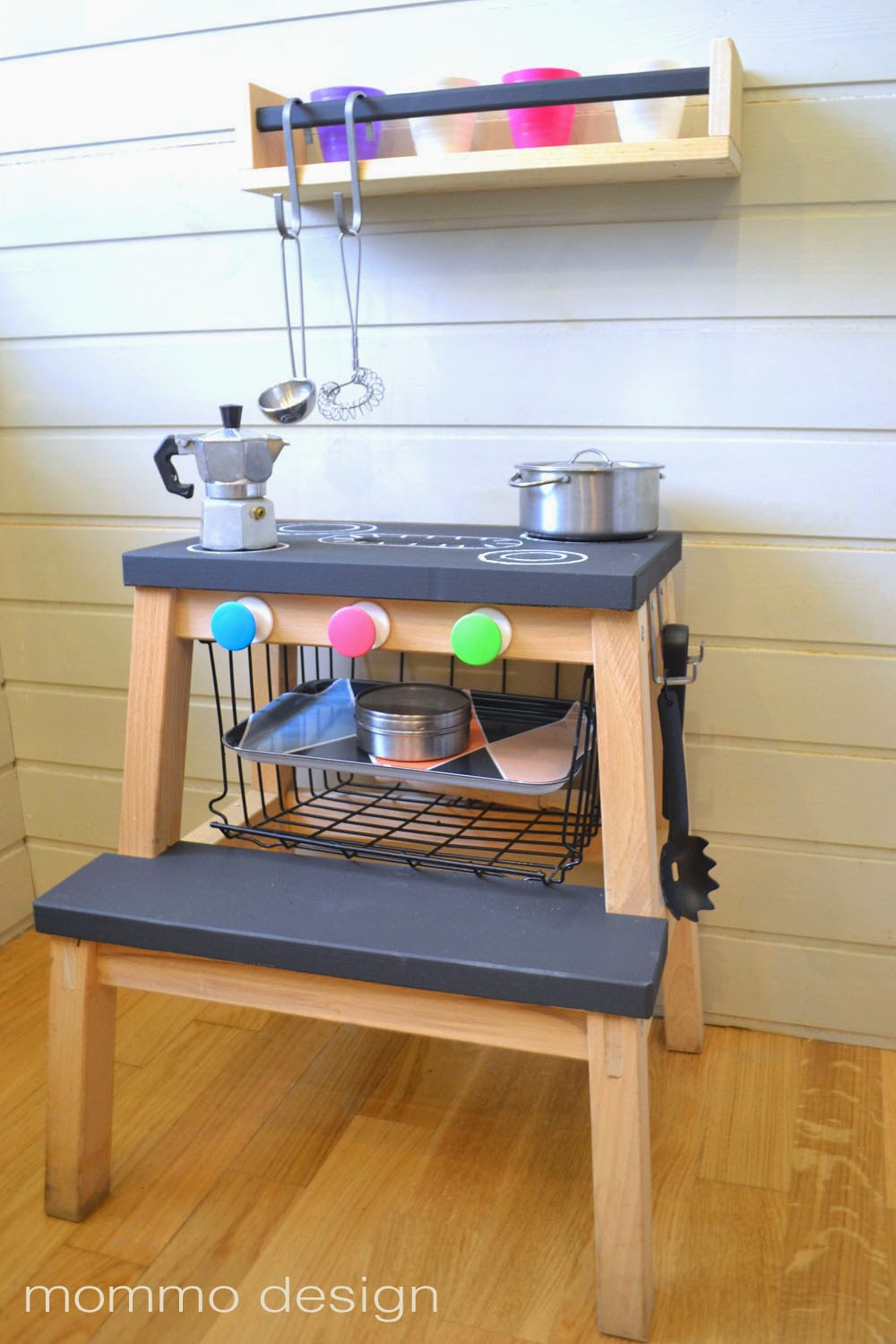 A lick of paint, a few knobs and a little basket rack will turn it in to an awesome play kitchen.
Source: mommo design

Paint or decorate the Bekvam with wall paper to turn it into a fun library ladder.
Source: Oakland Avenue
Small toy storage on a magnetic knife rack
Sick of stepping on little toy cars that feel like they go straight through your foot?  You are saved! The Grundtal magnetic knife rack is a storage savior for little metal based toys like cars and trains.  Kids love magnets, so picking up after themselves is a more likely event with this little IKEA hack (sadly, it won't work on LEGO).  It's only $14.99 (IKEA) and is easy to attach to your kid's bedroom wall.

Source: JUST A GIRL
Lack side table IKEA hacks
The Lack side table (available from $7.99, IKEA), is another fantastic piece of furniture that you can create masterpieces with for your kid's bedroom.

Encourage play and paint the Lack side table with chalkboard paint to turn it into an art station.
Source: Pinterest

Board games – get some masking tape and paint so you can recreate your childhood favourites.
Source: IKEA via HouseBeautiful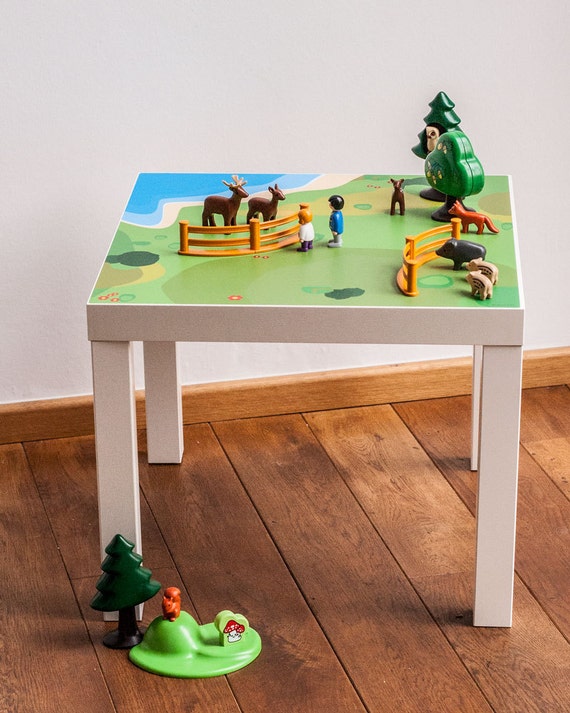 Create a tabletop playground
Source: Etsy
Store books on a spice rack
One of the most popular IKEA hacks around (for a good reason) is using the Bekvam spice rack ($3.99 at IKEA) to store and display children's books.  It's solid wood and can easily be painted and mounted as a cute little book shelf to walls, doors, above the bed head, etc.

Source: BRIT + CO
Kura bed IKEA hacks
Have you got little angels who don't want to go to bed?  Make bedtime something they look forward to by creating something unique and fun with the Kura bed.  The Kura Reversible bed frame is $299 (IKEA, mattress sold separately).  It can be flipped upside down to convert from a low to high bed.  IKEA sell bed tents, but we know you can get much more creative than that – all you need is some inspiration, paint, wall paper and fun linen!
If the thought of putting together an IKEA flat pack is daunting for you, why not hire an Airtasker to do the assembly for you?

Camp out in a cubby house
Source: IKEA via Hellobee

Build a big kid bed with its own slippery slide
Source: LaurieFlower

Sweet dreams and slumber parties bunk bed design
Source: Kidsmopolitan
Change table IKEA hack
A great IKEA hack for nurseries is to use the Tarva chest of drawers as a change table (starting from $129, IKEA).  The 3 and 6 drawer options are both the perfect height for changing your baby, and the drawers can be used as storage for nappies and creams.

Source: Mon Bébé Chéri
Storage with the Kallax shelf
Parents in the know love using the Kallax shelving system to create storage for toys and other bedroom items.  Having the Kallax on it's side makes it easier for little ones to reach their favourite play items, and you can place a small mattress on top to create a reading nook.  The Kallax comes in a range of configurations (starting from $69, IKEA) and can be stacked, painted and given inserts to make organisation easier.

Source: Zelfmaak Ideetjes
IKEA DIY rocking chair
This rocking chair hack is an incredible money saving idea!  Instead of purchasing a rocking chair with a hefty price tag, why not make your own?  IKEA has a great range of comfortable chairs available.  Pick yours, then order some rocking chair runners online and attach them yourself. 
If this task seems a little outside of your skillset, Airtasker have some great handymen who could do the job in no time.

Image credit: Sara Boulter Photography
Source: Popsugar.
Have you got any more awesome IKEA hacks for kids bedrooms that you'd like to share?  Leave us a comment below, and happy IKEA hacking!